The Superbowl is just days away and I can't wait to whip up some yummy treats for everyone to share. A few of the recipes on the menu are: Pinwheels, jalapeno poppers, and sausage balls.
Let's start with
pinwheels
!
You will need:
burrito sized tortillas- an 8 pack
2 packages of 8 oz cream cheese (no low fat this time, folks)
1 packet of dry ranch
dressing
mix
1 large tomato or can of petite diced tomatoes
1 bundle of green onions
*sliced deli meat (turkey or ham) optional
1. Dice the tomato and finely chop the onions (I use scissors)
2. Mix the cream cheese, ranch packet, tomato and onion in a large bowl. I use an electric mixer or my kitchen aid for this.
3. Next lay out the tortillas and cover surface of the tortilla with the cream cheese mixture.
4. Layer the meat on top of this and roll tightly and allow to set up in the refrigerator for about an hour.
5. The slice up each roll into 1/2-1 inch sections!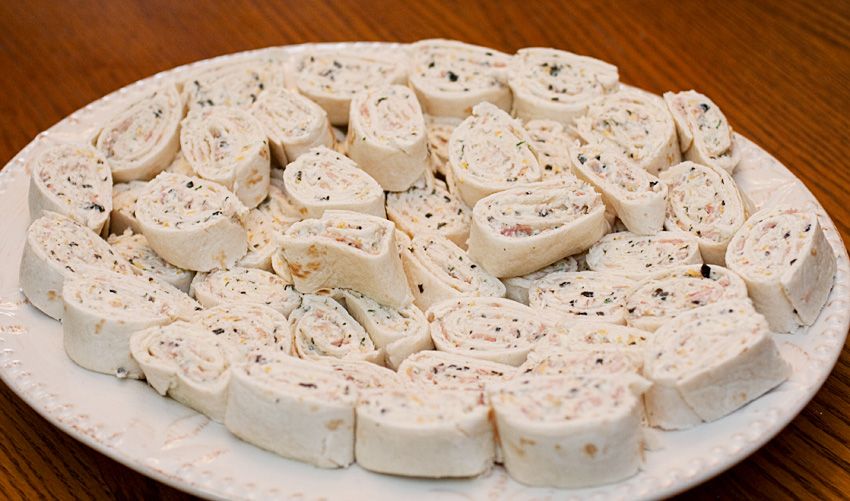 Next up Jalapeno poppers:
You will need:
About 20 fresh jalapenos
2 packages of 8 oz cream cheese (you can use 1/3 fat for this one)
1 packet of dry ranch mix
1 lb of any kind of bacon
1. Preheat oven to 375.
2. Cut peppers in half long ways and remove all the seeds (DO NOT touch your eyes, I repeat DO NOT touch your eyes)
3. Mix the cream cheese and ranch powder together in a bowl.
4. Spoon the cream cheese mixture in the seeded peppers.
5. Wrap bacon slices around the peppers and secure with a toothpick.
6. Arrange the peppers on a foil covered cookie sheet
7. Bake for 20-30 minutes until bacon is cooked through. If the bacon isn't quite finished turn on the broiler and let them get nice and crispy.
8. Remove and wait a few minutes to serve.
Sausage balls
You will need:
1lb of hot breakfast sausage uncooked
3 cups of Bisquick mix
4 cups of shredded cheddar cheese
1/4 to 1/2 cup of milk just to help things stick together
preheat oven 350
1. Combine sausage and cheese in a bowl.
2. Gradually add in Bisquick mix, I use my kitchen aid for this step
3.Add in milk until mixture hold together
4. Roll the mixture into 1-2 inch balls and place on a lined cookie sheet
5. Bake 25-30 minutes or until golden brown and sausage is cooked through
6. We like to eat ours fresh out of the oven!